Kitchen Remodeling
At Full Service Remolding Company. Your Local General Contractor.
Love Your Kitchen Again.
All About Kitchen Remodeling
Is the flooring in your kitchen stained and cracked? Are the countertops marred with burns and nicks? Is the floor plan of your kitchen awkward and ill-designed? If so, it is time to consider kitchen remodeling. Updating your kitchen can enhance the value of your entire house, and kitchen remodeling can be an exciting process that calls upon your creativity. You may need a little bit of patience as you live through the kitchen remodeling process, but the end result will be a kitchen you love and are proud to share with family and friends.
Kitchen remodeling runs the gamut from small upgrades, to a full-scale luxury remodeling venture. Small upgrades could include changing the hardware on your cabinets, refacing the cabinets, or replacing them. Or perhaps you might want to replace that scuffed floor or resurface your countertops. Such simple changes can make an enormous difference in your space. However, a full-scale kitchen remodel is going to result in the most satisfying changes for your home.
Full or Partial Kitchen Remodeling
Start your kitchen remodeling by making extensive notes about what you want. Think about what works and doesn't work in your current kitchen. Look through magazines or scan the internet for kitchen remodeling ideas. You might want to make a file of designs and products you like. Don't hold back at this point-make a note of everything you might want to include in your kitchen renovation. Then, work on a budget. This is when you match your great ideas to what you can pay. You might be surprised how much you can get for your money, or the compromises you can make that will still afford you an elegant, functional design. At this point, you may also want to contract the services of a designer or space planner. They can be enormously helpful with your kitchen remodel and point out products and design ideas that might not have occurred to you.
One of the most important decisions you will make is hiring a contractor, so take your time and do some research. Visit home improvement stores or local remodelers to get a feel for what kind of kitchen remodeling projects they specialize in. Share your vision with the professionals you are considering. Take the time to check references. Pay attention to whether or not you feel comfortable with the contractor. Does he or she listen to your ideas and respect what you are creating? A contractor-client relationship for a kitchen remodeling is like a short-term marriage, so make certain yours will be a happy one!
Kitchen Visualizer
Click on any part of the kitchen to start designing.
Kitchen Remodeling Cost in Orange County
On average, a kitchen remodel costs from $25,088 or $150 per square foot. Most homeowners spend between $18,000 and $39,000 or $85 to $260 per square foot. The total expense varies depending on the size of the space, the quality of materials, and whether you change the layout of the room.
Remodeling a kitchen can be an excellent financial investment for any kind of property owner. Along with creating a stunning, functional place to cook delicious dishes and captivate visitors, a kitchen remodel uses a high return rate in the real estate market. Such a big project does require careful planning to guarantee its value since specific aspects like the kitchen's dimension as well as the chosen materials can considerably influence the overall budget.
In a minor kitchen remodel the aim is to keep the kitchen's existing footprint while revitalizing its overall appearance and use. The substantial changes are usually economical solutions like repainting the wall surfaces, adding new floor covering and also getting energy-efficient appliances, since the customer isn't picking high-grade products or products. Cabinetry is usually a soaring expenditure, but small remodels select money-saving measures like refacing the existing cabinets or picking RTA (ready to assemble) closets, which are mass-produced and also ready-to-install.
A minor remodel typically includes:
Cabinet refacing or the addition of entry-level cabinets
Appliances updated to new, energy-efficient models
New countertops, kitchen sink, and faucet
New flooring
Freshly painted walls
AVERAGE TOTAL COST:  
$28,800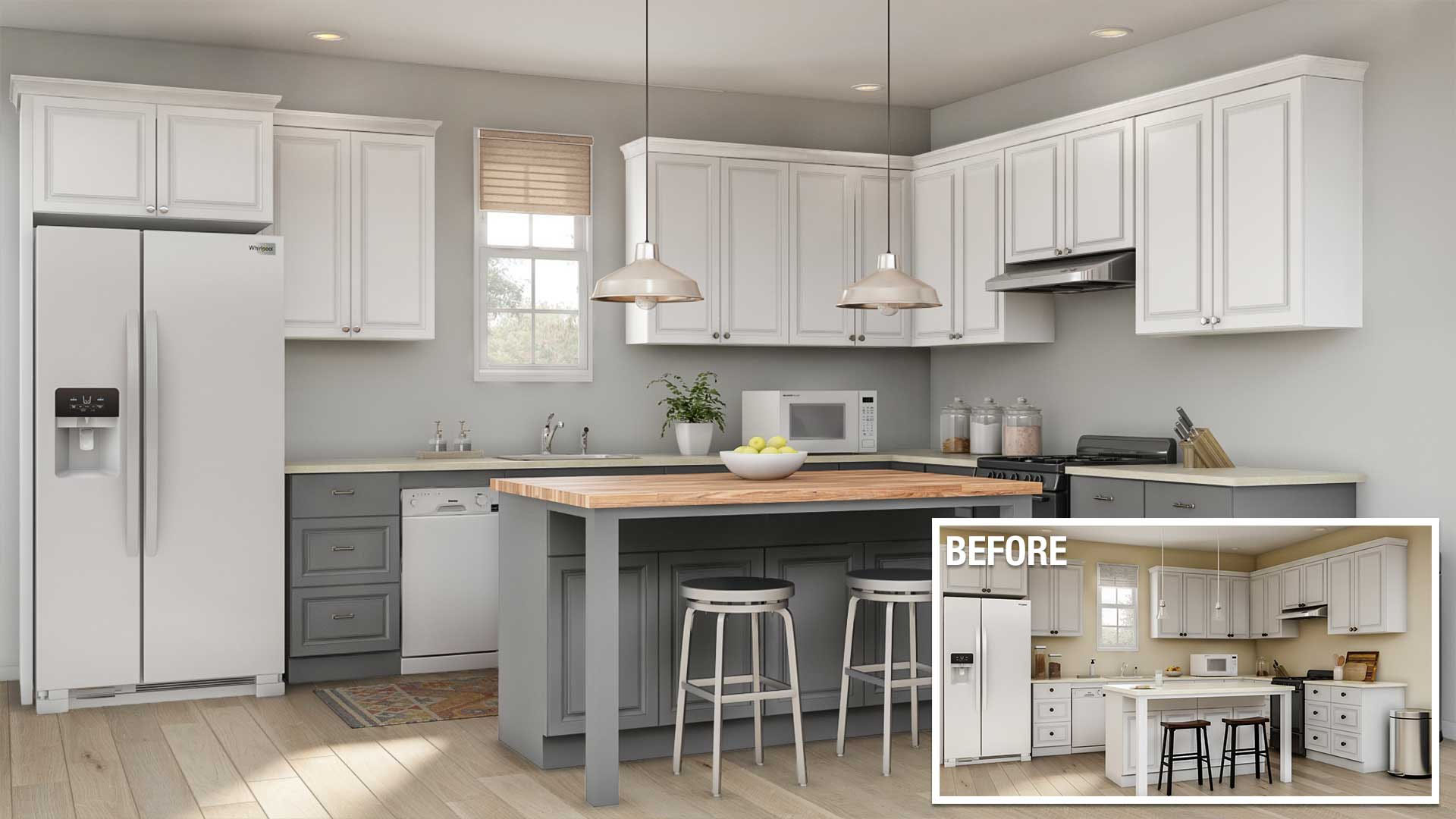 Major remodels involve a larger overhaul of the existing kitchen than minor remodels. Key fixtures—lighting, appliances, and flooring—are replaced with new versions, while extra touches are added such as a high-end sink with matching faucet and semi-custom cabinetry. Semi-custom cabinets are customizable, with versatile sizing and door front options.
A major remodel typically includes:
Semi-custom cabinetry and a 3-by-5 foot island
New countertops with a deep, spacious sink and faucet
New appliances, including a garbage disposal
Custom lighting
New flooring
Freshly painted walls
$65,000