Bathroom Remodeling
At Restotech Remodeling we help you to love your bathroom again.
Our professional crew will create a remodeled bathroom that will take your breath away.
The modern bathroom of today isn't just something you'd visit a few minutes per day. It's not simply a temporary rest stop for a quick shower. Nowadays, the bathroom has become so much more than that. It's a place where you can relax after a long, hard day at work. Our bathroom remodelers and designer team will make your bathroom a haven that you can spend a spa-like experience in, with all the amenities you want.
Bathroom Visualizer
Create unlimited bathroom concepts with a few clicks.
Should You Hire a Professional to Remodel Your Bathroom?
Are you unhappy with the way that your bathroom looks or the way that you feel while inside of it? If so, you may want to think about having your bathroom remodeled. You will find that is, literally, an unlimited number of benefit to doing so.
Once you have decided to remodel your bathroom, you will need to make a number of other decisions. One of those decisions is how you would like to have your bathroom remodeled. Your two choices are doing it yourself or hiring the services of a professional contractor. If you are like many other homeowners, you may want to have your bathroom professionally remodeled, but you may also be wondering whether or not it is a good idea. To determine whether or not you should have your bathroom professionally remodeled, you will want to examine the advantages and disadvantages of doing so.
Most likely, the biggest advantage of having your bathroom professionally remodeled is the end result. It is a fact most bathroom remodeling if done by an experienced contractor will look much better than do it yourself. Therefore, if you are looking to have the best looking bathroom on your block, it may be a good idea to hire the services of a professional contractor. In addition to better results, you may find that a professionally remodeled bathroom may help to increase the overall value of your home.
Lack of time is another reasons why you may want to have your bathroom professionally remodeled. In addition to producing quality work, most professional contractors are able to get their work done in a fairly decent amount of time. This is where their previous experience comes in handy. If your remodeling needs to be completed by a certain time, a deadline, you may want to hire the services of a professional contractor.
In addition to saving time, you may also want to hire the services of a professional contractor if you do not want to have the responsibility of remodeling your own bathroom. A bathroom remodeling project is a large amount of work, especially if you are looking to have every inch of your bathroom remodeled. Your responsibilities will not only include deciding what you want to be remodeled, but the fixtures that you would like to have replaced and so on. For instance, if you are looking to replace your bathroom toilet, you will need to buy a new bathroom toilet and then install it. For someone inexperienced in home improvement, this can be a lot of work and responsibility; in fact, it may just be too much.
Although, tyhere are many advantages to hiring a professioanl kitchen and bath remodeler there are also some disadvantages such as cost. As previously mentioned, professional contractors are more likely to produce quality work. If you are looking for the best, you should be prepared to pay for it. That is why it can get quite expensive to have your bathroom professionally remodeled. The overall costs of remodeling will all depend on how much remodeling you need to have done, as well as who you hire to do the remodeling.
Another disadvantage to having a professional contractor perform your kitchen remodeling is the lack of freedom that you may have. When a contractor first starts their work, they will do as they are told; however, you may encounter a problem. Whether you decide to add on extra work or eliminate work, you may find that changing your mind costs extra money, in the form of labor and materials. If you are unsure as to exactly what you would like your bathroom remodeling project to entail, it may be a good idea to make up your mind first or do your own remodeling work.
Since there are a number of advantages and disadvantages to having your bathroom professionally remodeled, you may find it difficult to make a decision. Perhaps, the best way to make that decision is to determine what your wants and needs are. Taking the time to thoroughly examine all of your options, instead of rushing to make a decision, is the best way to ensure that you get exactly what you want, as well as what you need.
Design Tips for Better Small Bathrooms Remodel
1. Use a corner sink. In very small bathrooms, a sink configured to fit in a corner can be a great space-saving option. Even pedestal sinks can be difficult to fit in very small bathrooms.
2. Use a shower curtain or sliding shower door. Shower doors that pivot on hinges may not work for small bathrooms. Instead, use a shower curtain or glass shower door that slides on tracks. 
3. Choose a vanity with rounded corners. In tight spaces, vanities with sharp corners can be hazardous. A vanity with rounded corners can prevent bruised hips.
4. Extend the counter over the toilet. A little extra counter space created when the vanity counter extends over the adjacent toilet can be surprisingly effective.
5. Use large-scale patterns. Large squares, wide stripes, and other large patterns can fool the eye and make spaces seem larger. 
6. Mirror the wall. In tight spaces, having a mirror occupy the entire wall behind the vanity can help two people to use it at once. 
7. Mount the towel bar on the door. When space is limited, mounting a towel bar on the shower door or the back of the entry door keeps towels at easy reach. 
8. Choose a trough sink. When mounted on a wall, the low profile of a trough sink frees up floor space for storage. 
9. Use a vanity with open shelves. Open shelves offer storage without swinging doors that can get in the way in a small bathroom. 
10. Use a wall-mounted faucet. Mounting a faucet on the wall allows for a smaller vanity, which helps free up space in a small bathroom.
Bathroom Remodel Cost: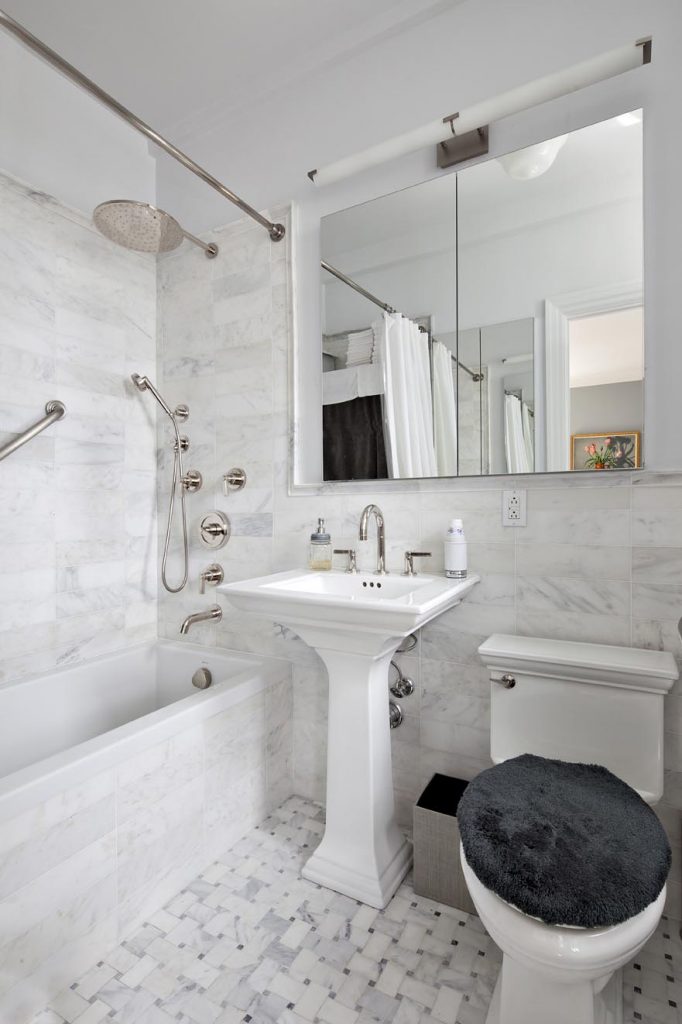 Your bathroom is a room that sees a whole lot of use. From loosening up in the bathtub on weekend breaks to guaranteeing your guests have a comfortable restroom to use, it's not a surprise that bathroom renovations go to the top of the priority listing for several homeowners.
Remodeling your bathroom may look like a complicated job, but appropriate preparation can help you obtain the appearance and also feel you want for your home. Use this overview to get more information concerning the benefits of renovating your bathroom, guest restroom or master bathroom room. Commonly, bathroom remodels begin at $8,000 and also can differ based on the size of your area and also the products you pick to upgrade.
The size of your bathroom is a major factor when it comes to the cost of a renovation. Typically, homeowners spend more to renovate master bathrooms since they increase resale value and improve day-to-day function. Here's a quick primer to help you sort out the average cost of a renovation by bath size.
A powder room remodel may include:
  
Faucet, toilet and vanity upgrades
New flooring and lighting
Freshly painted walls and/or new wallpaper
$9,000 – $29,000
A guest bathroom remodel may include: 
  
Upgrading bathtub or shower
Updating faucets, flooring and lighting
Installing new tile in tub or shower
Installing a new vanity
Freshly painted walls and/or new wallpaper
$19,000 – $34,000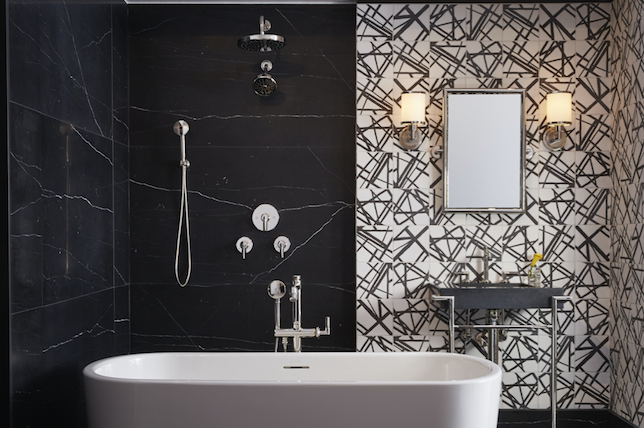 A master bathroom remodel may include:

Installing new cabinets/possibly adding a double vanity 
Replacing faucets
Installing a frameless glass shower enclosure and/or a soaking tub
Adding a recessed shower caddy 
Upgrading floor tile and wall tile for shower
New lighting, mirror and fixtures
AVERAGE JOB COST:
$30,000 & UP